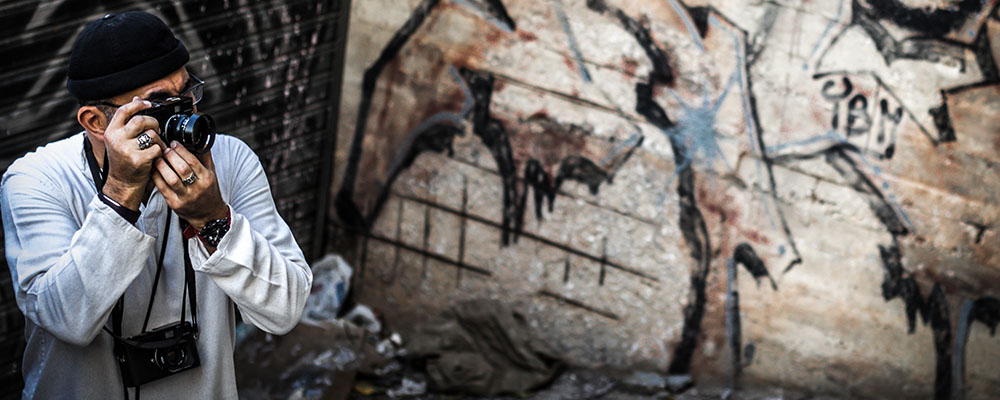 Biography
Maher Attar combines his background as an award winning photographer with his war-time photography and lifestyle portrait of world leaders and celebrities. His clients include magazines, celebrities and non-profit organizations.
In 1984, Maher Attar started his career as a war photographer working for Agence France-Presse in Lebanon. His debut as a press photographer was launched in 1985 by a moving photo taken during the war in Lebanon that made it to the front page of New York Times. In 1986 Sygma Photo Agency, now known as Corbis-Getty, appointed him as a Middle East Correspondent. Maher covered the Iran-Iraq war, the Gulf war, the Afghanistan Taliban war, Achille Lauro hijacking, the American and French hostages crises in Lebanon among other conflicts and events in the Middle East region.
In 1990, the agency relocated Maher to France to be on its elite team of Paris-based photographers. He traveled on a number of assignments that covered major world events and followed leaders and celebrities such as French President Jacques Chirac, the late Lebanese Prime Minister Rafic Hariri, Queen Rania of Jordan, Palestinian leader Yasser Arafat, the late Actress Elizabeth Taylor, Singer Phil Collins, Chef Alain Ducasse, Top model Dayle Haddon, Sculpturer Bernar Venet, Painter Za Wou ki and Spanish Architect Santiago Calatrava.
In 2002, Maher established his own photo press agency, MGA Production and successfully recruited key clients including leading publications such as Life, Newsweek, Time, Le Figaro, and Paris Match among others.
Maher held a number of positions as photographer and communications advisor to Her Royal Highness Princess Haya of Jordan and Director at the office of Her Highness Sheikha Moza bint Nasser in charge of developing Qatar's image bank and organizing programs designed for NGOs to teach children from Asian countries the techniques of photography.
Maher has been recognized regionally and internationally for his accomplishments in the world of photography. Lebanon honored him in the exhibition "Born in Lebanon" alongside the world renowned singer Fayrouz and the internationally acclaimed fashion designer Elie Saab. The United Nations Environment Programme, exhibited his work at the Espace Pierre Cardin in Paris entitled, "Auprès de mon Arbre", featuring nine large format photographs celebrating nature, water and life. In addition, the United Nations Photo Library has archived and used Maher's moving picture of the French UN Peacekeeper during an exchange of fire in south Lebanon in 1986.
Maher's book titled "Challenges & Reality" was sponsored by the Education Above All Foundation and captured the day-to-day circumstances of children around the world and their rights to education. The book was launched at the United Nations headquarters in New York and exhibited at the UNESCO headquarters in Paris. As an expert lomographer, Maher was selected by the MEP (European House of Photography) and IMA (the Arab World Institute) to exhibit his latest lomography work at the First Photography Biennale of the Contemporary Arab World in Paris from November 2015 to January 2016. 
To Fuel his passion for art, Maher has had the idea of creating a book that toiled in his head for more than ten years. However, it was not until he returned to his homeland, Lebanon, that "Be Creative" came to life. As as artist and a professional, Maher tells true stories of artists, by an artist. 
Maher published more than 10 books and currently he is working on a historical photo project titled 'BERYTUS .. A Glorified City'.
Maher's latest photo project tells the story of the city of Beirut over the years. He represents her in a one-woman figure that has endured many pains and is still standing. Maher uses a dramatic photography style to shoot his images. The art work carries the messages of freedom, dignity, peace, independence and diversity. Berytus is a project for history to keep.
Maher Attar is selected by EPSON Europe | France as a member for the Digigraphie® certification and is using the personal print-in-label within his artistic photographic fine art prints.
---
E X P E R I E N C E
2021
Founder and Owner of Art District – House of Photography
since 2006
Founder of the Publishing House Art&Privilège editions
2007 – 2015
Director, Photo Library of the Office of Sheikha Moza bint Nasser of Qatar
2012 – 2014
Photography Consultant for Qatar Museums Authority
2002 – 2007
MGA Production, photo press agency : Manager and Photographer
2000 – 2002
Press and communications advisor to Princess Haya of Jordan
1986 – 2002
Staff photographer at the Sygma photo press agency
From 1990 to 2002: Paris bureau, realisation and publication of magazine reportages on countries, celebrities and art for Géo, Paris Match, Le Figaro Magazine, Life, Time, Newsweek, Stern, Focus, Business Week, etc.
Producer and director of a network of photographers in the Middle East
From 1986 to 1990: war correspondent in the Middle East, based in Beirut, and then in Amman (Jordan) to cover the Gulf War
1985 – 1986
Staff photographer at the Agence France-Presse (AFP)
Beirut (Lebanon) bureau, Middle East correspondent covering, notably, the Achille Lauro (in Egypt), war in the Palestinian camps, and the TWA highjacking
1982 – 1985
Freelance photographer for the AP and ANSA press agencies
---
E X H I B I T I O N S
2021 – Rising Above It – Art District – House Of Photography, Beirut
2018 – BE Creative – Artists Made In Lebanon, Saleh Barakat Gallery, Beirut
2016 – Challenges & Reality, Katara Cultural Village, Doha
2015 – Le Temps Suspendu, Photo12 Gallery, the first Photography Biennale of the contemporary Arab world at IMA, Paris
2015 – Challenges & Reality, UNESCO, Paris
2015 – Challenges & Reality, United Nations Headquarters, New York
2013 – Challenges & Reality, EAA Village, QNCC, Doha
2013 – A Still On A Land In Motion, Anima Gallery, The Pearl Qatar
2011 – DOHArama..Portrait of a city, QMA Gallery, KATARA, Doha
2010 – Haute Couture Photography, ZAÏ, Doha
2009 – 23 Visions, A collective exhibition, Dome City Center, Beirut
2007 – Once upon a time… Souk Waqif, UNESCO, Paris
2006 – Once upon a time… Souk Waqif, Doha
2006 – Bonheur… By Maher Attar, Mois de la photo, Paris
2006 – One year of happiness, Printemps de la mode, Paris
2006 – Beside my Tree, Espace Cardin, Paris
2005 – 24 Hours. Lithuania, European Tour
2004 – Looking over Jordan, Printemps Haussmann, Paris
2004 – 24 Hours. Lithuania, Vilnius
2003 – A Twenty Year Journey, Festival du Scoop, Angers
2003 – A Twenty Year Journey, Central Color, Paris
---
B O O K S
2018 – BE Creative – Artists made in Lebanon, Editions Art & Privilège
2015 – Challenges & Reality, for Education Above All foundation, Editions Art & Privilège
2010 – DOHArama, Doha city between present and past, Editions Art & Privilège
2009 – On The Road To School, for NGO ROTA, Editions Art & Privilège
2008 – Portraits…Lebanon, Editions Art & Privilège
2007 – Where We Were, Private collection
2006 – Bonheur, a cabaret dancer, Editions Art & Privilège
2006 – Once upon a time … Souk Waqif, the old souk of Doha city, Editions Art & Privilège
2003 – A Twenty Year Journey, retrospective, Edition MGA Production
2001 – Morio Matsui, a Japanese painter, Editions DCL
1989 – The Palace of Beiteddin, 18th century's palace in Lebanon, Private collection